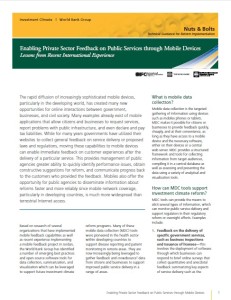 Moonshot Global Principal Courtney Roberts recently co-authored the International Finance Corporation Nuts and Bolts publication "Enabling Private Sector Feedback on Public Services through Mobile Devices Lessons from Recent International Experience."
Drawing from emerging best practices and open-source software tools for data collection, summarization, and visualization, the publication describes how mobile data collection tools can elicit information and monitor public service delivery and support regulators in their regulatory reform or oversight efforts. More importantly, it also provides advice to practitioners on implementation.
The publication is based on research from several organizations that have implemented mobile feedback capabilities as well as on experience implementing a mobile feedback project in Jordan.