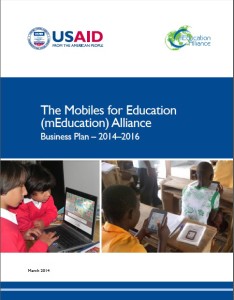 As subcontractor to JBS International, a Moonshot Global team developed the business plan for 2014–2016 for the Mobiles for Education Alliance, a 20-party public–private partnership that promotes and supports innovative approaches to incorporating mobiles into global education programs.
We analyzed internal stakeholder values, interests, and strategic priorities to develop deeper channels of knowledge sharing and collaboration between team members, allied organizations, and potential investors. Outputs included a 24-page strategy document, including detailed budget scenarios, which served as a business plan to guide organizational priorities and future partner engagement, and a template for a two-page outreach "fact sheet" to be used for more targeted marketing.
Moonshot Global developed the presentation for and worked with JBS to facilitate the mEducation Alliance Steering Committee meeting at UNESCO's Mobile Learning Week 2014.